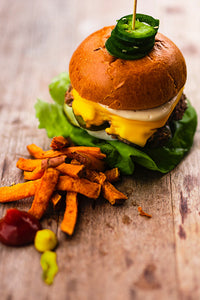 BISON BURGERS 16/BOX averaging $6.75 each
Introducing our mouth-watering Bison Burgers made from All-Natural Locally Raised Bison, the perfect combination of lean and flavorful meat. Our bison are raised locally, ensuring that you receive only the freshest and highest quality meat available.

Bison is naturally leaner than traditional beef and is rich in iron, making it a healthy and tasty alternative to traditional burgers. Our commitment to using only natural and sustainable farming practices means that you can feel good about your purchase, knowing that you are supporting responsible agriculture.

Our Bison Burgers are handcrafted with care, using only the highest quality bison meat. Each burger is carefully formed, seasoned, and grilled to perfection, resulting in a juicy and satisfying meal that is sure to please.

These burgers can be enjoyed cooked pink inside, just like a steak, but due to their leanness, it's essential not to overcook them, or they will dry out. Pair with your favourite toppings and sides for a delicious and healthy meal that is sure to impress.

Order now and experience the difference that comes from choosing premium All-Natural Locally Raised Bison. Our Bison Burgers are the perfect way to enjoy a healthier, leaner, and tastier burger.