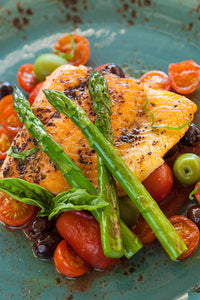 Arctic Char Box contains 10-6oz. (170g) portions averaging $16/portion
Indulge in the mouth-watering taste of Arctic Char, sustainably farm-raised in the icy waters of Northern Canada. This delectable fish is a popular menu item worldwide, and for good reason. With its versatile flavour profile and firm texture, it's a true delight for seafood enthusiasts.
Our Arctic Char comes in a convenient box that contains 10-6oz. (170g) portions, averaging at just $16 per portion. Each piece of fish is flash-frozen immediately after being caught, then portion-controlled and vacuum-sealed to preserve its flavour and freshness.
Arctic Char is also a great source of healthy fatty acids, including Omega-3 and Omega-6, which are essential for maintaining a healthy heart and brain function. By adding Arctic Char to your diet, you can enjoy all the benefits of these healthy fatty acids and increase your intake of essential nutrients.
So why not try our sustainably farm-raised Arctic Char today and experience the incredible taste and health benefits for yourself? With its unbeatable flavour and quality, it's sure to become a staple in your household.