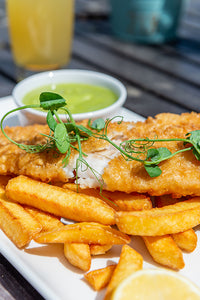 WILD ATLANTIC HADDOCK 12-16 portions average of $5-$6 per piece
Indulge in the delicious taste of Wild Atlantic Haddock, sustainably caught in the pristine waters of the Atlantic and frozen at sea within hours of the catch to ensure maximum freshness. With its mild flavour and delicate texture, haddock is a popular choice for seafood lovers everywhere.
Our Wild Atlantic Haddock comes in a convenient box that contains 12-16 portions, averaging at just $5-$6 per piece. Each piece is carefully portion-controlled and vacuum-sealed to preserve its flavour and freshness, making it easy and convenient to enjoy whenever you like.
Haddock is also a great source of lean protein and low in calories, making it an excellent choice for a healthy and balanced diet. Whether you prefer it baked, pan-fried, or used in your favourite seafood recipes like fish cakes, tacos, or chowder, our Wild Atlantic Haddock is sure to satisfy your cravings.
So why wait? Try our sustainably caught and flash-frozen Wild Atlantic Haddock today and experience the incredible taste and freshness that only comes from the finest seafood. With its unbeatable quality and value, it's sure to become a staple in your household.