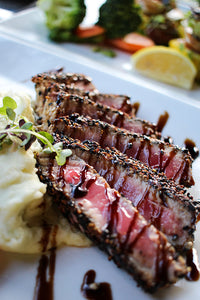 AHI TUNA STEAKS 10 portions average of $10 per serving
Experience the ultimate taste of freshness with our Ahi Tuna Steaks, sustainably hand-line harvested by skilled Indonesian fishermen. This sushi-grade boneless tuna is a true delicacy, with its rich flavour and melt-in-your-mouth texture that is second to none.
Our Ahi Tuna Steaks come in a convenient box that contains 10 portions, averaging at just $10 per serving. Each steak is carefully selected and prepared to ensure the highest quality and freshness, making it an excellent choice for any occasion.
In addition to its unbeatable taste, our Ahi Tuna Steaks are also a great source of lean protein and healthy fats, including Omega-3 fatty acids, which are essential for maintaining good heart health and overall well-being.
So whether you're a seafood enthusiast or just looking for a delicious and healthy meal option, our Ahi Tuna Steaks are a perfect choice. Try them today and discover the incredible taste and quality that only sustainably hand-line harvested tuna can offer.