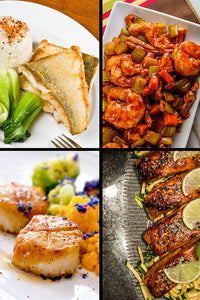 MIXED BOX CONSISTS OF 12 MEALS: Average of $10/meal
Digby Nova Scotia LARGE Bay Scallops 1lb. (254g) 3-5 Scallops per meal
Jumbo Bubba LARGE Selva Shrimp 1lb. (254) 3-5 Shrimp per meal
Manitoba Fresh Water Pickerel 2- 6oz. (170g) portions
West Coast WILD Sockeye Salmon 2- 6oz. (170g) portions 
All flash frozen at the source.....FRESHER then "fresh"
Store bought seafood is not always as "fresh" as they claim, because we live in a landlocked Province.
Freezing chain is not broken right into your freezer! guaranteed 6 months/Vac Packed & Portion Controlled.
Great variety to have available for your next special meal!
FYI EACH product experienced in this variety box can be purchased on it's own!