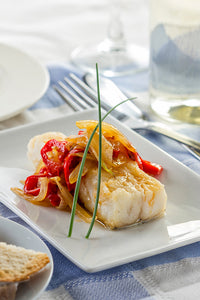 WILD ALASKAN COD 10-12 pcs average of  $6-8 per meal.
6 oz. (170g) Portions, skinless/boneless
Savour the pure and delicious taste of our Wild Alaskan Cod, now available in a convenient 10-pack of 6 oz. (170g) portions at an average of $6-8 per meal. Our premium quality Pacific cod is sourced from icy, pristine Alaskan waters, ensuring that you receive only the freshest and most flavorful fish possible.
Pacific cod is a healthy and nutritious choice, being low in calories, rich in protein, and packed with essential nutrients. Our cod is fresh frozen on the ships to lock in its freshness and flavour and portion-controlled for your convenience. It is also vacuum sealed to maintain its freshness and quality.
Our Wild Alaskan Cod portions are skinless and boneless, making them easy to prepare and enjoy in a variety of different dishes. With a firm, flaky texture and a slightly sweeter flavour than Atlantic Cod, our Pacific cod is the perfect choice for those who want to enjoy a delicious and healthy seafood meal.
Experience the unmatched taste and quality of our Wild Alaskan Cod today, and elevate your mealtime experience with the highest quality seafood available. Whether baked, grilled, or pan-fried, our Pacific cod is sure to satisfy your taste buds and leave you feeling nourished and satisfied.