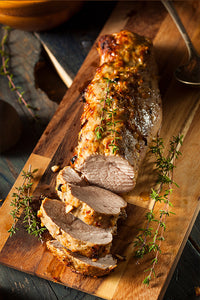 Our Canadian Pork Tenderloin is a premium cut of meat that boasts exceptional tenderness and succulence, making it the perfect centerpiece for your next meal. With 5-7 tenderloins per pack, this product provides an average of 14-16 servings, making it ideal for family gatherings or entertaining guests.
Sourced from the finest Canadian pork, our tenderloins are incredibly lean and offer a healthier meat option for those who are mindful of their dietary choices. The meat is expertly trimmed and portioned to ensure consistent quality and portion sizes every time.
Whether you prefer to grill, roast or sear your meat, our Canadian Pork Tenderloin delivers a versatile flavor profile that pairs well with a variety of seasonings and sauces. With a cost of $5-$8 per serving, you can enjoy a premium quality meal without breaking the bank.
Experience the unparalleled taste and quality of Canadian Pork Tenderloin today and elevate your culinary creations to new heights!