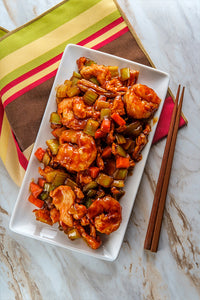 JUMBO BUBBA SELVA SHRIMP 16-20 meals  $8-$12/meal
Indulge in the premium-quality taste of Selva Shrimp, sustainably and naturally raised by small-scale farmers in the mangrove forests of Southern Vietnam. These black tiger prawns are a unique and delicious choice that not only tastes great but also promote sustainable farming practices and supports local communities in Southeast Asia.

Our Selva Shrimp are raised in their natural habitat, free from chemicals and antibiotics, resulting in a sweet, succulent taste and firm texture. Each shrimp is carefully selected, peeled, and deveined for your convenience, making it easy to enjoy their incredible flavour in a variety of dishes.

By choosing Selva Shrimp, you are also supporting sustainable farming practices and creating a direct link between consumers and farming communities in Southeast Asia. This means that your purchase not only tastes great but also helps to promote social and environmental responsibility.

So why not try Selva Shrimp today and experience the incredible taste and sustainable benefits of these premium-quality black tiger prawns? Whether you prefer them grilled, sautéed, or served in your favourite seafood recipes, Selva Shrimp are sure to satisfy your cravings and leave you feeling good about your food choices.