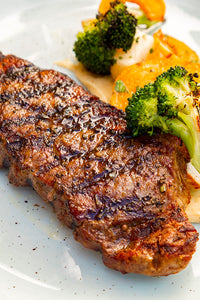 New York Steaks 12/Box and $16 per steak
Our Grass Fed and Finished New York steaks are flash frozen at the peak of freshness to ensure that the beef retains its natural flavour and tenderness, while also preserving its nutrients and quality. These steaks are hand-selected and hand-cut, ensuring consistent quality and flavour in every bite. Raised on open pastures and finished on a diet of grasses, our commitment to sustainable and humane farming practices means that you can feel good about your purchase, knowing that you are supporting responsible agriculture.

These steaks are perfect for grilling, pan-searing, or broiling, and when paired with your favourite sides and a glass of red wine, you're in for a meal that is sure to impress. So why not order today and experience the difference that comes from choosing premium, flash-frozen, Grass Fed and Finished New York steaks?