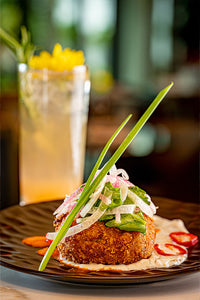 Crab Cakes BOX 24 Pcs
Indulge in the savoury and succulent taste of crab cakes, a beloved dish that has been a staple of seafood cuisine for generations. While crab cakes can be made from a variety of crab species, those made from the meat of the blue crab are considered to be the most traditional and flavorful.

At many restaurants serving crab cakes, you may be offered the option to have them either fried or broiled. In today's health-conscious climate, more and more people are opting for the healthier broiled option. Broiled crab cakes are lower in fat and calories than their fried counterparts, as they are not doused in oil. This means you can enjoy the delicious taste of crab cakes without guilt.

Made from a mixture of crab meat, breadcrumbs, egg, and seasonings, crab cakes are a delicious and versatile dish that can be served as an appetizer, main course, or even as a sandwich. The key to making a great crab cake is to use high-quality ingredients and to be gentle when mixing the ingredients together so as not to break up the delicate chunks of crab meat.

So why not treat yourself to the delicious and healthy taste of crab cakes today? Whether you're dining out at a seafood restaurant or whipping up a batch at home, this classic dish is sure to satisfy your cravings and leave you feeling good about your food choices.