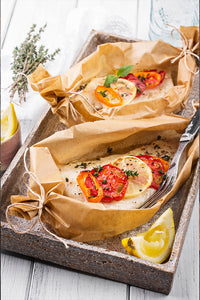 Indulge in the exquisite taste and texture of our Wild West Coast Halibut, now available in a convenient 10-pack of 6 oz portions at an average of $16 per serving. Our premium quality Alaskan Halibut is prized for its light and lean flesh, versatile flavor and delicate texture that will leave you feeling satisfied and nourished.
Our halibut is sustainably caught, making it an environmentally friendly and responsible choice for your health and the planet. It is also skinless and boneless, making it easy to prepare and enjoy in a variety of different dishes.
Our Wild West Coast Halibut is flash frozen to lock in its freshness and flavour, portion-controlled for your convenience, and vacuum sealed to ensure maximum freshness and quality. Simply thaw, season to taste, and prepare using your preferred cooking method for a meal that's both healthy and delicious.
Enjoy the health benefits of our Wild West Coast Halibut, which is high in protein, low in fat, and loaded with essential nutrients. Elevate your mealtime experience and impress your guests with the unmatched flavour and quality of our sustainably harvested Alaskan Halibut today.