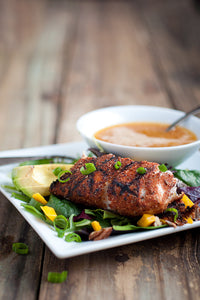 MAHI MAHI 10/BOX Average of $10 per portion
Mahi Mahi is a delectable and nutritious seafood choice that boasts a lean, mild flavour and a firm texture. Its versatility in cooking methods makes it an excellent option for any meal of the day. This boneless and skinless fish is particularly exceptional when grilled on the barbeque, but it can also be baked, broiled, or sauteed to perfection.
Not only is Mahi Mahi a flavorful fish, but it is also an excellent source of nutrients. It is high in protein, making it a satisfying option for those looking to maintain a healthy diet. Additionally, it is low in calories, making it an excellent choice for those watching their weight. Mahi Mahi is also rich in vitamins B12 and B6, which help maintain healthy nerve and blood cells, and phosphorus, which plays a vital role in strengthening bones.
Furthermore, Mahi Mahi is an abundant source of potassium, which helps regulate fluid balance in the body, and niacin, which supports healthy digestion and skin. Finally, it contains selenium, a powerful antioxidant that helps protect the body against cell damage and inflammation.
In summary, Mahi Mahi is a delicious and nutrient-packed fish that offers numerous health benefits. Whether grilled, baked, broiled, or sauteed, this versatile fish is sure to impress even the most discerning palates.