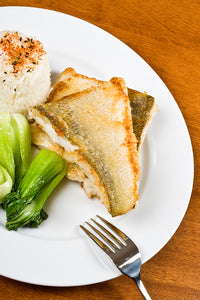 MANITOBA FRESH WATER PICKEREL 8-12 Portions $10-$15/serving
Indulge in the exquisite taste of Manitoba freshwater Pickerel, a highly sought-after delicacy from the pristine waters of Lake Winnipeg. Known for its rich and savoury flavour, this fish boasts a firm and delightful texture that is sure to impress even the most discerning fish lovers.
For a simple yet delicious meal, try barbecuing this mouthwatering fish in foil with a squeeze of lemon, a dash of salt and pepper, and a generous dollop of butter. Alternatively, you can pop it in the oven at 400F for 20 to 30 minutes straight from the freezer. You will be amazed at how easy and convenient it is to prepare, not to mention how incredibly satisfying it is to eat.
At just $10-$15 per serving, this Manitoba freshwater Pickerel is a true value for money. With 8-12 portions per order, you'll have plenty to share with family and friends. Once you try it, you'll be hooked and coming back for more time after time.