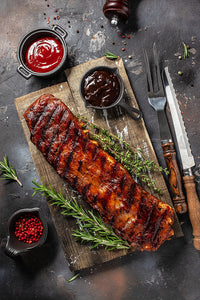 Our Canadian Pork Back Ribs are a delicious and savoury option for your next meal. With four large racks per package, you can enjoy the mouthwatering taste of tender, juicy meat that falls off the bone.
Our pork ribs are sourced from the highest quality Canadian pork, ensuring a superior flavour and texture. With a little bit of preparation and some simple cooking instructions found online, you can easily impress your guests with a restaurant-quality meal. Check out YouTube for some inspiration and have some fun experimenting with different rubs and sauces.
At an average cost of $8 per meal, our Canadian Pork Back Ribs offer exceptional value for a premium meat product. These ribs are perfect for family gatherings or BBQs with friends and are sure to leave everyone feeling satisfied and impressed.
Experience the delectable taste and texture of Canadian Pork Back Ribs today and elevate your mealtime experience to a whole new level!