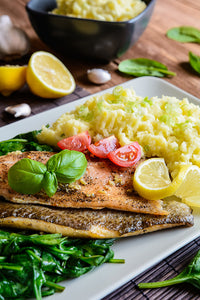 RAINBOW TROUT 12 portions  average price is $9.50/portion

Trout is a healthy and delicious fish that is perfect for a quick and easy weeknight meal. This versatile fish can be seasoned to your liking and broiled to perfection, then served with a simple butter and lemon sauce for a burst of fresh flavours.
One of the key benefits of Trout is its high levels of omega-3 fatty acids, which are essential for maintaining a healthy heart and brain function. This healthy fish is an excellent source of lean protein and low in saturated fats, making it a great addition to any family's diet.
Moreover, our Trout is flash-frozen immediately after being caught to ensure maximum freshness and flavour. It is portion-controlled and vacuum-sealed, making it easy to prepare and store in your freezer until you're ready to cook it.
Whether you're a seasoned cook or a beginner, Trout is an easy and delicious option that is sure to please. So next time you're in the mood for a healthy and tasty dinner, try our flash-frozen Trout and enjoy all the benefits of this nutritious and flavorful fish.