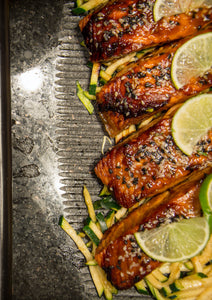 Indulge in the exceptional taste and nutritional benefits of our Wild West Coast Sockeye Salmon, now available in a convenient 10-portion pack for $10.80 per serving. Our premium quality salmon is known for its firm texture and rich, iconic flavour that will take your taste buds on a culinary adventure.
Sockeye salmon is also a nutritional powerhouse, packed with omega-3s and offering even more vitamin D than other wild salmon varieties. Our salmon is flash-frozen to lock in its freshness and flavour and portion-controlled to ensure that each serving is perfectly sized for your convenience.
Our Wild West Coast Sockeye Salmon is vacuum sealed to maintain its freshness and quality, making it the perfect choice for busy individuals and families. Cooking our salmon is easy - simply wrap it in foil and bake from frozen with lemon and butter in a preheated oven at 350F for about 30 minutes. Check for doneness by sticking a fork in the flesh - when it flakes, it's ready to enjoy!
Experience the unmatched flavour and health benefits of our Wild West Coast Sockeye Salmon today and elevate your mealtime experience with the highest quality seafood available.