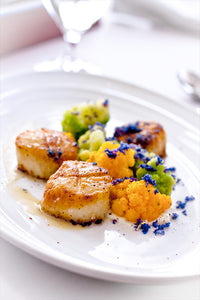 DIGBY NOVA SCOTIA BAY SCALLOPS 4 lbs $10-$12 per serving
Discover the sweet and succulent taste of Digby, Nova Scotia Bay Scallops, sustainably harvested from the clear and pristine waters of the Atlantic Ocean. These premium-quality scallops are world-renowned for their delicate flavour, tender texture, and natural sweetness, making them a favourite of seafood lovers around the world.

Sustainably harvested using traditional methods that respect the delicate balance of the marine ecosystem, Digby, Nova Scotia Bay Scallops are a delicious and healthy choice for any meal. Whether served raw as sashimi, pan-seared, or grilled, these scallops are sure to impress even the most discerning palate.

Our Digby, Nova Scotia Bay Scallops are carefully selected for their plump and juicy meat, which is high in protein, low in fat, and rich in vitamins and minerals. These scallops are also an excellent source of omega-3 fatty acids, which are known to have numerous health benefits, including reducing inflammation, improving heart health, and promoting brain function.

So why not indulge in the delicious taste and health benefits of Digby, Nova Scotia Bay Scallops today? Whether you are looking for a gourmet meal to impress your guests or a healthy and nutritious option for your family, these sustainably harvested scallops are sure to satisfy your cravings and leave you feeling good about your food choices.